Planning and installation
Distance from basket center to basket center
6 m for ECO basket, 7 m for MAXI basket.
2 m distance from the edge of the basket to the building.
2 m distance from the road.
1 m distance from the neighboring property
or 2 m distance from the neighboring building.
The distance to foundations, traffic areas, pools and water / sewage pipes must be at least 1.5 – 2 m.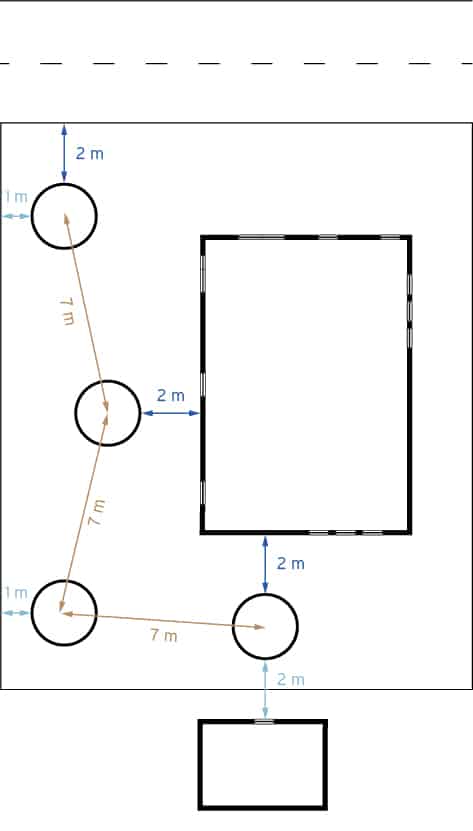 Space requirement
The compact size of the geothermal basket requires up to 60% less space for the entire geothermal basket field than a comparable surface collector. For each geothermal basket should be about 35-40 m² area.
Installation in water protection areas
If no groundwater worthy of protection is tapped, installation is usually possible even in water protection areas under certain conditions. Even in water protection areas 3, permits (some with conditions) are usually issued for the installation of geothermal baskets.
Horticultural use
Shrubs, hedges or vegetable beds can be planted above a basket. For existing trees, pay attention to the tree canopy; baskets should not be installed below the tree canopy. Any regional requirements (tree protection) must be observed.
Overbuilding, pools or drive-over capability
The geothermal baskets may not be overbuilt with structures such as garages, carports, pools, basements or roads. The area above the installed BetaTherm geothermal baskets must not be sealed.
In the area of installed geothermal baskets, after 1 m of covering with soil, axle loads of 10 t can be driven over without danger.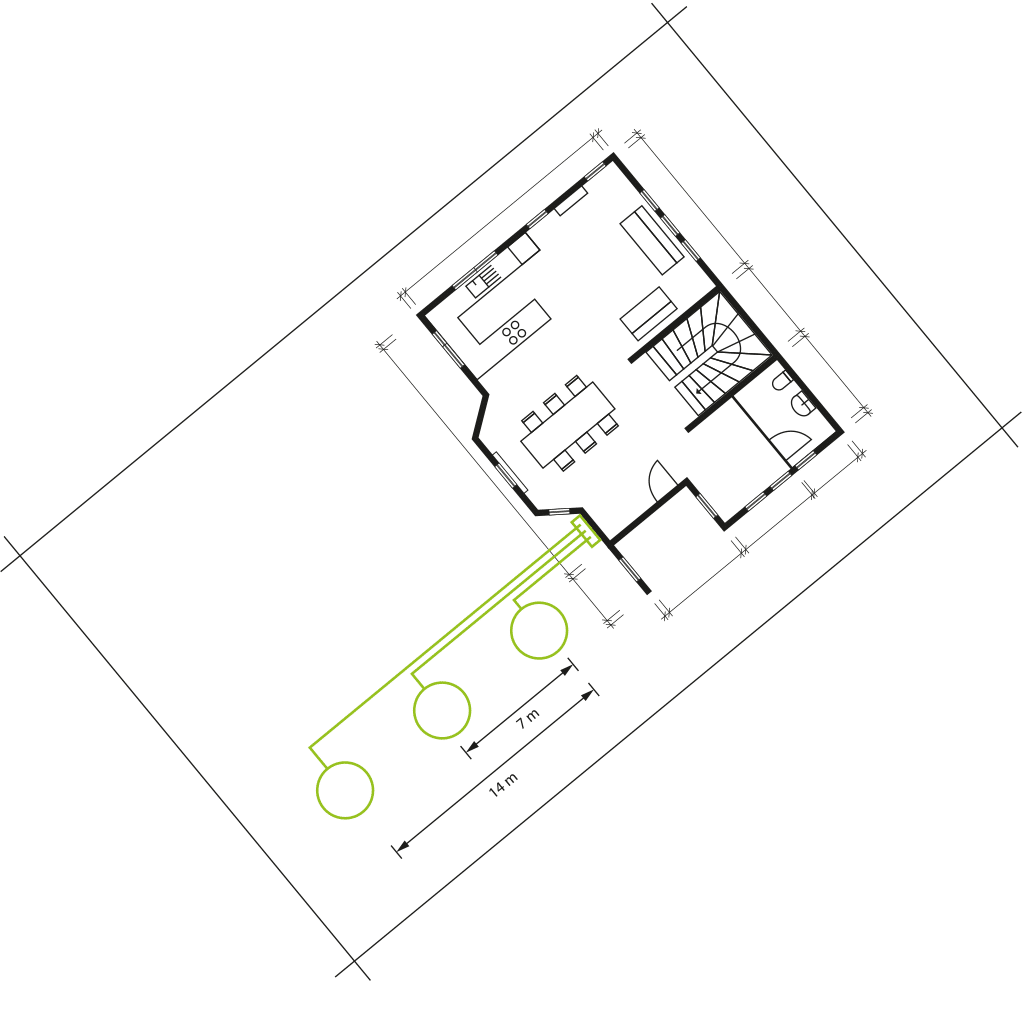 Planning
Thanks to its modular design, the geothermal basket system can be individually adapted to any requirement, making it the ideal solution for single- and multi-family homes as well as small commercial and industrial applications.
Our planning team will support you in dimensioning your system, and we will be happy to prepare a suitable offer with installation proposal for your construction project.
Planning and installation with BetaTherm
We plan your plant individually tailored to your property and your needs. On request and by individual agreement, our installation team can install the geothermal baskets (note requirements on site).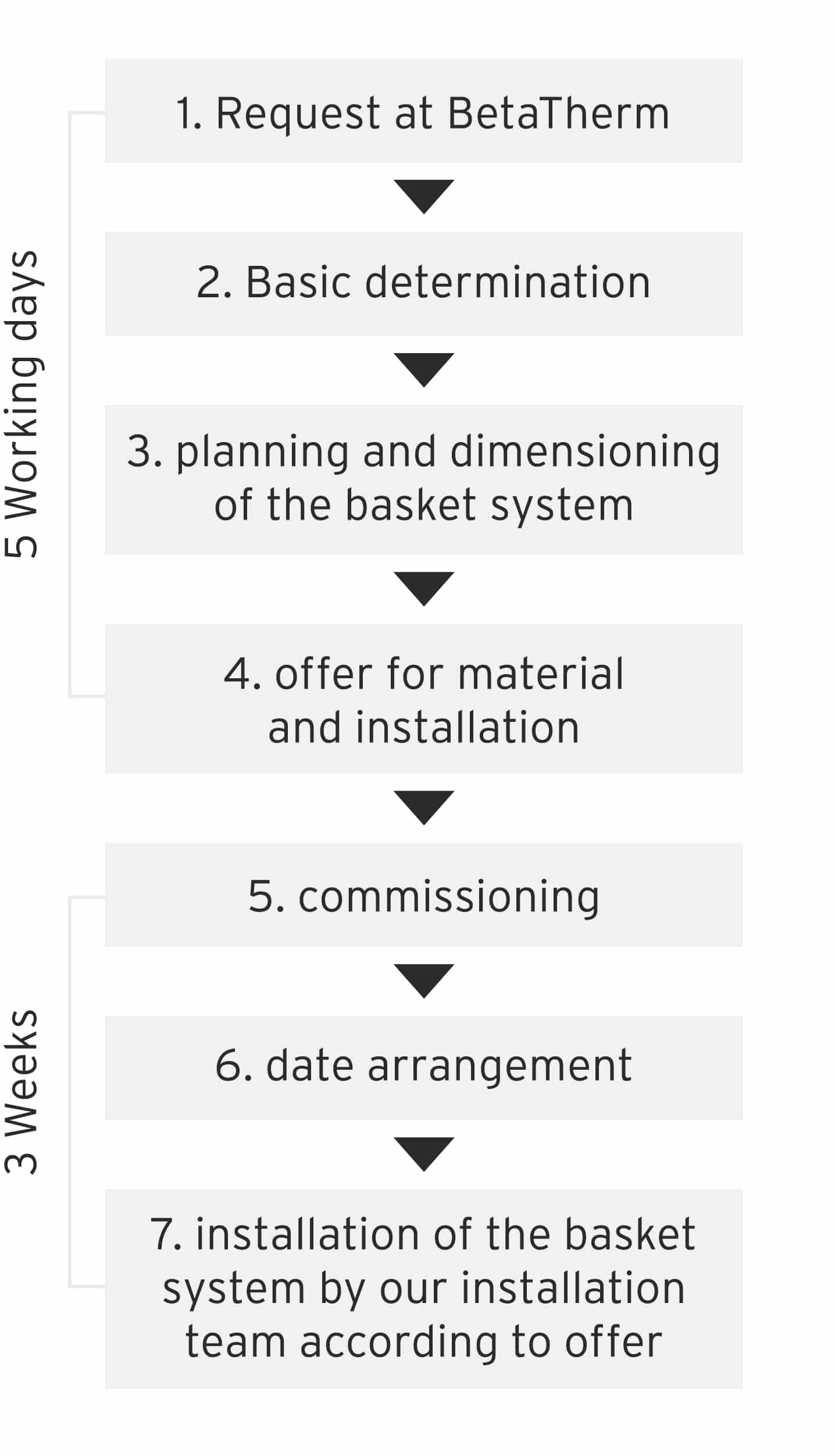 Planning and installation with specialist companies
Planning and installation by specialist companies: e.g. planners, architects, property developers, energy consultants or our partners.
We have some installation partners in Germany who take care of the planning and installation. Please contact one of our partners directly for a non-binding inquiry.
Self-assembly
We plan and dimension your plant and supply you with a customized material package. You only purchase the material from us and install the system yourself with your civil engineer according to our installation instructions. During the installation we will be at your disposal by phone.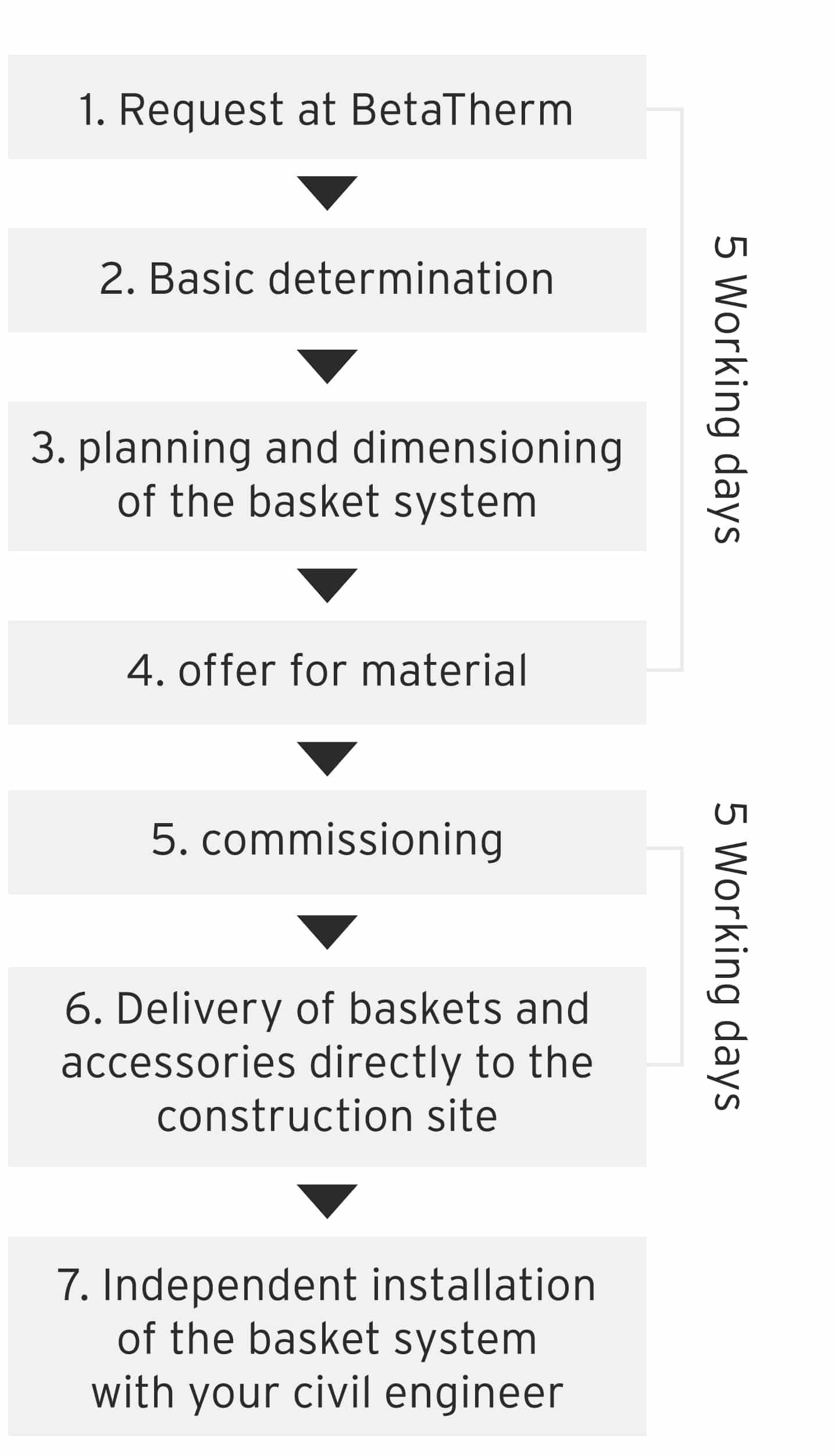 Installation instructions
We plan individually for your property
The geothermal baskets can usually be installed ready for connection within one day for a single-family house.
For this purpose, the baskets are sunk into 3.9 m deep excavations and backfilled with the existing soil or replacement material and compacted in layers. By means of modern connection technology, the baskets are connected centrally to our distributor. The primary line is led through the on-site house entry, where the installer makes the connection to the heat pump or heating circuit.